K-drama review: Itaewon Class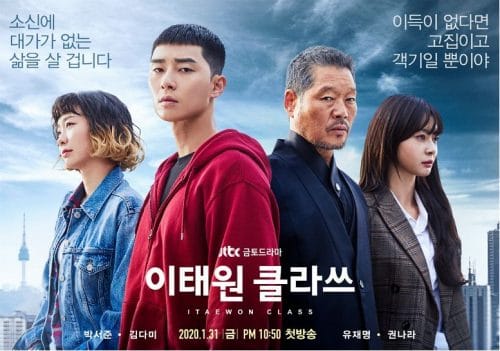 This was a good series, leaning into some K-drama cliches while thoroughly confronting others. I chose it after only getting halfway through another K-drama (Record of Youth) before I had to give up on it for being homophobic (I also wasn't especially gripped, possibly because I find its star Park Bo-gum wooden in everything). In response to that, I looked up a list of K-dramas with good LGBTQ representation.
Itaewon Class (2020 Showbox/JTBC/Netflix) takes a couple of episodes to get going, because it is heavily loaded with backstory. We meet Park Saeroyi (played by Park Seo-joon) on his first day at a new high school, where he stands up to the school bully only to find himself expelled for the trouble. The bully turns out to be Jang Geun-won (Ahn Bo-hyun), the oldest son of millionaire CEO Jang Dae-hee (Yoo Jae-myung) of Jangga Group, Korea's largest food corporation. By coincidence Saeroyi's father works for Jangga Group and his job is now under threat.
The Jang family's abuse of power does not end there. Saeroyi's father is killed in a hit and run in which a Jang is implicated, but the police turn a blind eye. When Saeroyi realises who is to blame he takes justice into his own hands, and winds up with a prison sentence for assault.
So when we next meet him he is a high-school dropout with a prison record and a need for revenge. He visits his old friend and first love Oh Soo-ah (Kwon Na-Ra) in her new home in the Seoul district of Itaewon, which he is instantly attracted to. It's depicted as youthful, international, LGBTQ-friendly and buzzing with a party atmosphere. But before he can build a life here, he has a 10-year plan to earn enough money to implement his father's dream of opening a pub.
And so we skip another 10 years. Soo-ah is working for Jangga Group, managing its Itaewon restaurant, and spots a new pub in the district called DanBam. Not only has Saeroyi followed through on his dream, he declares to Soo-ah that he will make DanBam bigger than Jangga. But first he has to figure out the basics of running a business.
Thankfully, one skill he does have is being a good judge of people and he quickly assembles an expert team. Though none of them seems expert at first. Choi Seung-kwon (Ryu Kyung-soo) is a former gangster Saeroyi met in prison. He's rough in words and actions but determined to clean up to please Saeroyi who has given him his first real chance at a different kind of life. Ma Hyun-yi (Lee Ju-young, who I know from Weightlifting Fairy Kim Bok-joo) worked with Saeroyi in a factory, where she opened up to him about her secret: she is a trans woman, but presents herself as neutral as possible (cropped hair, shapeless clothes) to avoid questions. One of the weirder storylines is that she is hired as the chef despite being a terrible cook (to begin with), while Saeroyi himself is a great cook but never takes on that role in DanBam.
DanBam is struggling until the appearance of Jo Yi-seo (Kim Da-mi), a young social-media star who likes to stir up trouble and is angered by Saeroyi trying to save her when they first meet. She can certainly handle herself, and only agrees to work for DanBam because she spies an opportunity to replace her business degree with some real-world experience. She brings along her best friend Jang Geun-soo (Kim Dong-hee), who just happens to be the illegitimate younger son of Jang Dae-hee. He is sweet until his unrequited crush on Yi-seo is threatened by her crush on Saeroyi.
The last to join the team is Kim To-ni (Chris Lyon), who is hired on the spot because Saeroyi assumes a Black man must speak English, which would be a useful skill front-of-house. It takes To-ni months to convince the DanBam team that he is half-Korean and doesn't speak English, the response to which is that he must learn English.
Both To-ni and Hyun-yi face bullying and harrassment, some of it pretty ugly. Itaewon Class makes it clear that these forms of discrimination are common in Korea but also shows that things are changing, at least in some quarters. For instance, when the Dan-Bam team go to a club one night, To-ni is barred from entry under a "no Africans" rule. Not only do they all walk out, but when Yi-seo posts on social media about it, the club is widely harangued and boycotted.
On the cliché front, there's the inevitable love triangle, an evil billionaire CEO despite wealth being depicted as the ultimate success, kidnapping and attempted murders. But to counter that, the romantic moments are all consensual and female-led, most characters are complex enough to not be purely good or bad, and the story doesn't often go where I expected to.
While neither a comedy nor frothy romance, this show had enough fun and exuberance to carry it through some tough storylines. I also appreciated that one of the few recurring songs used to score emotional scenes is "Still fighting it" by Ben Folds, which is a truly beautiful song by one of my favourite artists (I saw him live a few years back; he was ace).
Park Seo-joon is an engaging lead man and, while I had strong feelings from the start about which woman he had more chemistry with, I wasn't sure which way that storyline was going to go, but it also wasn't the most important thing in this drama. Overall, it was something a bit different and all the more enjoyable for that.