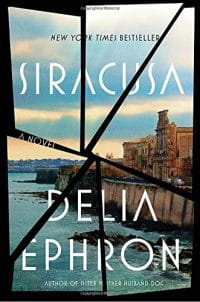 Siracusa
by Delia Ephron
I never used to care about liking the characters in the books I read, but I must admit that I spent the first quarter or so of this novel wondering if it was worth persevering with four irritatingly self-involved narrators. I'm glad I did, because I enjoyed it overall.
I'm pretty sure the self-absorption of the four main characters is the point, and the extremity of their smug egotism is by turns funny and tragic. They all narrate the same events from their different viewpoints – which if they were less self-absorbed would mean they actually noticed the same things at least some of time, rather than these wildly different accounts.
The story is simple: a small group of Americans travelling abroad don't get on very well. Two married couples, Michael and Lizzie, and Finn and Taylor – plus Finn and Taylor's 10-year-old daughter Snow – travel to Rome and then Siracusa in Sicily for a week's holiday together. Lizzie and Finn are old friends – former lovers, in fact – but otherwise the group aren't close at all. The holiday was suggested on a whim while having dinner together, the kind of suggestion that usually wouldn't be followed up on by mere acquaintances.
Continue reading "Piece by piece, we put the shells back together, reencasing ourselves"