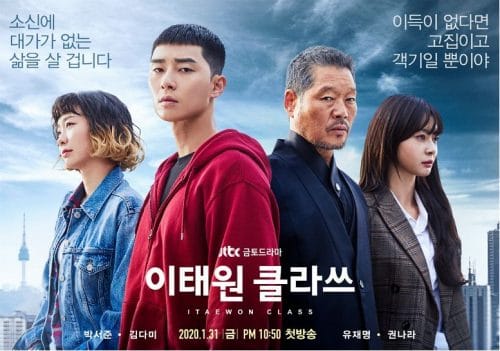 This was a good series, leaning into some K-drama cliches while thoroughly confronting others. I chose it after only getting halfway through another K-drama (Record of Youth) before I had to give up on it for being homophobic (I also wasn't especially gripped, possibly because I find its star Park Bo-gum wooden in everything). In response to that, I looked up a list of K-dramas with good LGBTQ representation.
Itaewon Class (2020 Showbox/JTBC/Netflix) takes a couple of episodes to get going, because it is heavily loaded with backstory. We meet Park Saeroyi (played by Park Seo-joon) on his first day at a new high school, where he stands up to the school bully only to find himself expelled for the trouble. The bully turns out to be Jang Geun-won (Ahn Bo-hyun), the oldest son of millionaire CEO Jang Dae-hee (Yoo Jae-myung) of Jangga Group, Korea's largest food corporation. By coincidence Saeroyi's father works for Jangga Group and his job is now under threat.
The Jang family's abuse of power does not end there. Saeroyi's father is killed in a hit and run in which a Jang is implicated, but the police turn a blind eye. When Saeroyi realises who is to blame he takes justice into his own hands, and winds up with a prison sentence for assault.
So when we next meet him he is a high-school dropout with a prison record and a need for revenge. He visits his old friend and first love Oh Soo-ah (Kwon Na-Ra) in her new home in the Seoul district of Itaewon, which he is instantly attracted to. It's depicted as youthful, international, LGBTQ-friendly and buzzing with a party atmosphere. But before he can build a life here, he has a 10-year plan to earn enough money to implement his father's dream of opening a pub.
Continue reading "K-drama review: Itaewon Class"