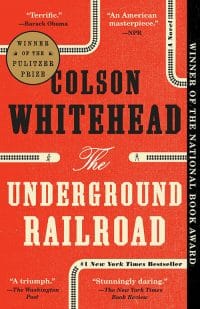 The Underground Railroad
by Colson Whitehead
Not that I ever doubted it, but this book is excellent. It depicts many details of the awfulness of slavery while also being a highly readable adventure narrative. Please forgive the short review – this book deserves more analysis but it's now a while since I read it and I just want to share my praise for it before I forget even more.
Cora is a slave in Georgia. She is an outcast of sorts among the slaves on the plantation, tarred by her mother's reputation of madness and her own fierce protection of the tiny garden her mother left her. On the verge of adulthood, new threats raise their ugly head and an offer is made: does she want to attempt an escape with recently arrived slave Caesar? Her journey across America, making use of an underground railroad that is an actual railway underground, is astonishing, terrifying, entertaining and upsetting.
Continue reading "She is only a human being for a tiny moment across the eternity of her servitude"